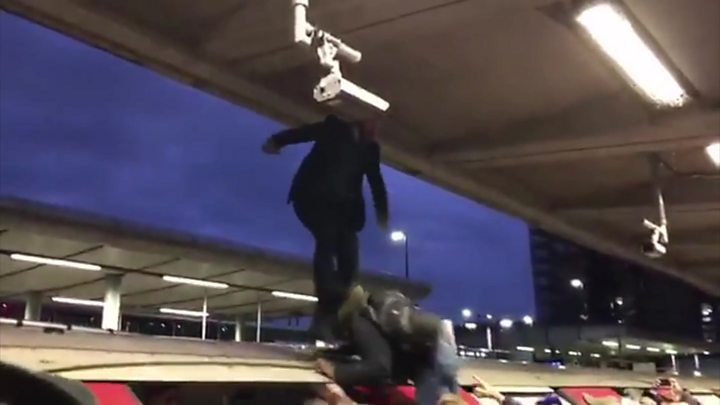 Commuters have dragged climate change protesters from the roof of a London Underground train.
Extinction Rebellion activists climbed on top of trains at Stratford, Canning Town and Shadwell during Thursday's rush hour.
The Jubilee Line and Docklands Light Railway were earlier partially suspended. Minor delays are still reported on the lines.
Four protesters have been arrested, British Transport Police (BTP) said.
Extinction Rebellion said the disruption was "necessary to highlight the emergency".
In the footage shared on social media from Canning Town station, a passenger waiting for a train is seen climbing on the carriage to get to one of the protesters.
The activist is grabbed by the knees and dragged down, falling to the platform where he appears to then be kicked and hit by angry commuters on the platform.
Others can be heard shouting and swearing at the protesters.
One shouts: "I have to get to work too – I have to feed my kids."
A second protester was chased along the top of the train carriage by a commuter before being dragged off.
A third Extinction Rebellion activist, who was broadcasting the protest on the group's social media accounts, said he was also attacked and "kicked in the head".
In a statement BTP said: "We continue to urge protesters to not target the London Underground network. This is dangerous, not only for protesters but for commuters.
"We have increased our patrols on the London Underground and at other rail hubs throughout London."
---
Analysis
By Tom Edwards, BBC London transport correspondent
Even from within Extinction Rebellion there has been disagreement on targeting public transport – particularly London's Tube and DLR which are pretty efficient, very well-used and low carbon.
Many think public transport is part of the solution to achieving net zero-carbon transport systems.
By targeting the transport network, protesters are confusing their messages.
However, you have to remember Extinction Rebellion is a decentralised umbrella term for lots and lots of smaller groups and as such they have differing methods – some more radical than others – and can operate independently.
And – ultimately – what they want is publicity for the cause.
---
Extinction Rebellion co-founder Clare Farrell defended the Tube action, saying "the public, I don't think, realise quite how serious this situation is".
Speaking to the BBC she added: "Someone has been hurt today. We understand that putting ourselves in these positions is potentially dangerous for us.
"But what else can we do?"
At Shadwell station several activists glued themselves to trains, including 83-year-old Phil Kingston,
Mayor of London Sadiq Khan said in a statement: "I strongly condemn the Extinction Rebellion protesters who have targeted the London Underground and DLR this morning.
"This illegal action is extremely dangerous, counterproductive and is causing unacceptable disruption to Londoners who use public transport to get to work."
Train drivers' union Aslef said the Tube and other public transport services were "part of the solution to climate change, not the problem".
Extinction Rebellion should "stick to protesting against those who create the problem – not our industry, members and hard-working commuters", the union added.
A public order ban has been put in place on Extinction Rebellion activities in London since Monday.
In response, Extinction Rebellion called on "all London rebels and friends" to defy the ban.
---
Were you at one of the affected stations? Share your experiences by emailing haveyoursay@bbc.co.uk
Please include a contact number if you are willing to speak to a BBC journalist. You can also contact us in the following ways: